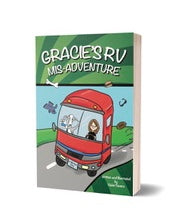 Gracie is a very dramatic dog who LOVES food, and is on a RV road trip adventure with her human, Silly Yaya, and then somehow it went WRONG...VERY, VERY HORRIBLY TERRIBLY WRONG!  Gracie has lost her blanket, the blanket she's had since she was a puppy, the blanket she can't sleep without.  How was she going to be able to go on?  HOW?  HOW?
Gracie is a problem solver and she has a brilliant plan to find her blanket, but will it work?  Can she find her blanket?  Will she find her blanket?  Where is her blanket?
Join Gracie and Silly Yaya on their mis-adventures during their road trip that's filled with hysterical encounters with snakes, goats, ooey, gooey marshmallows and much much more!  This the first book in a series of Gracie the dramatic dog stories.  This early chapter book has black and white illustrations on each page with simple text and speech bubbles that are sure to get kids engaged with the story.  
This book highlights Gracie's problem solving skills, and teaches important lessons about her self-doubt, anxiety and solutions for these issues in a kid friendly way that's sure to spark conversation.  There is even a fun geography lesson too!
Gracie's RV Mis-Adventure is a transitional book from picture book to chapter book when the reader is first ready for a chapter book, this is the book that's a great first-step in that transition.  This funny book is perfect for kids from ages 5-8, and grades K-2nd.  This is a must have for every child's home library.  If you have a child that is struggling to give up their favorite blanket or stuffed animal that they can't sleep without, but may be ready to try and let go of and be a "big kid now", just like Gracie, this is the perfect book for them.  This book is perfect for all kids, their parents and RV fans across the highways (especially those who have had RV mis-adventures)!  Order your copy today!
Gracie's RV-Mis Adventure:
teaches coping skills
teaches problem solving skills
geography lesson
transition from picture book to chapter book
ages 5-8
grades K-2nd
hysterical
Product details
Item Weight :

3.36 ounces

Paperback :

82 pages

ISBN-13 :

978-1523259052

Dimensions :

5.25 x 0.19 x 8 inches