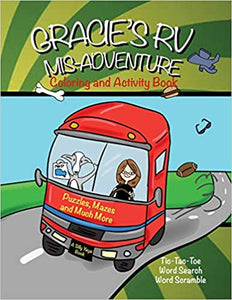 Gracie's RV Mis-Adventure Coloring and Activity Book is 50 pages of Pure Fun!
This is the companion book to Gracie's RV Mis-Adventure, an early chapter book about Gracie a very dramatic dog and her owner Silly Yaya.  While on a road trip, somehow it goes Wrong...Very, Very, Horribly Wrong!  Gracie has lost her blanket, the blanket she can't sleep without.  Join them as they retrace their steps to find Gracie's blanket.
Let the adventure continue for your kids with this fun-filled 8.5x11 coloring and activity book.  Inside your kids will find Gracie and Silly Yaya on their adventures during their road trip and
word search 
word scramble
crossword
coloring pages
spot-the-difference
fill-in-the-blanks
tic-tac-toe
and much, much more
There are also questions inside that will show your child's reading comprehension (shhh, don't tell them) that they get excited to answer because they are having endless fun.
This coloring and activity book is perfect for ages 5 and up.  Younger readers may need some assistance with some of the puzzles, making for the perfect opportunity for fun bonding time, they love it when you do tic-tac-toe with them!  The simple line drawings are fun and easy to color.  The non-perforated pages are not intended to be torn out.  You will enjoy the heavier paper than you will find in many coloring books.  
Get your copy today and let the adventure continue!
Product details
Item Weight :

5.1 ounces

Paperback :

50 pages

ISBN-13 :

978-1095306635

Dimensions :

8.5 x 0.12 x 11 inches