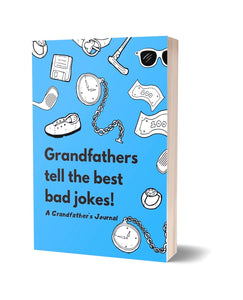 Grandfathers Tell The Best Bad Jokes is a 120 page lined journal that makes the perfect gift for that hard-to-buy-for Grandfather!  We all have that grandfather in our life who tells the worst jokes, is well known for his corny, boring, predictable jokes!  This is the gift for him!
Inside you will find a message page from the giver (grandchild), a checklist of all of the grandfather's positive attributes, and over 15 joke prompts including:
my best poop joke is
my best bad joke is
knock knock
political
fart
and much more
There are lots of additional lined journal pages for the grandfather and his grandchildren to make-up their own jokes.  What a great way for them to bond!  This fun for the whole family journal is a silly, wholesome  way for the kids to have fun with their grandfather, with the potential for hysterical puns, gags, and lots of fun!
After all, grandfathers are just kids at heart!  If this is the guy who thinks everyone loves his jokes, especially his grandkids, then get him his copy today!
Product details
Item Weight :

6.1 ounces

Paperback :

120 pages

ISBN-13 :

978-1097719457

Dimensions :

6 x 0.28 x 9 inches