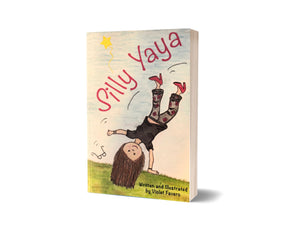 Silly Yaya is a book of grandparent names and the one-of-a-kind relationship between grandchildren and their grandparents.   What do you call your grandparents? Or what do they call you?  Silly Yaya is a children's picture book written for children who do not call their grandparents the traditional grandma and grandpa.  Instead, Silly Yaya tells the story of why "Each one (grandparent) needs their own special name. From family to family, they are not always the same." Explore the book with your child or grandchild to see if the names they call their grandparents are listed in this book that also highlights their one-of-a-kind relationship.
There is nothing like the special bond between grandparent and grandchild.  It's a magical kind of love ♥.   Find the special spot at the end that makes Silly Yaya a Keepsake Book. Charmingly illustrated in the classic colored pencil style, with a very childlike quality, the young child enjoys looking for the characters in the book they believe are their grandparents; that look like the grandparents they might have drawn!  
There are 50 grandparent names listed in the book, is your grandparent name listed?  It's okay if it's not listed, there is a special spot for you to write your name!
Nonna
Gigi
Pepaw
YiaYia
Poppy
Grammy
Mimi
G-Pop
and many more
What better way to tell the expectant grandparents about the pregnancy than a book of grandparent names!  Silly Yaya makes a great baby shower gift or gift to a dear friend who is about to become a grandparent for the first time.  Get your copy today!
Product details
Item Weight :

2.72 ounces

Paperback :

34 pages

ISBN-13 :

978-1512133004

Dimensions :

6 x 0.08 x 9 inches
For books signed by the author, or  for personalization, leave the EXACT spelling of the name the book is being personalized for.
*no returns on personalized books.